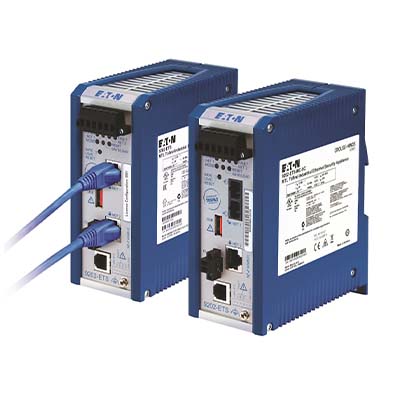 The 9202-ETS is Eaton's next generation MTL Tofino™ security system and continues to provide the highest level of network security for process automation applications.
The MTL Tofino™ security solution is a combined solution consisting of the 9202-ETS MTL Tofino security appliance hardware, MTL Tofino Configurator (TC) and any additional MTL Loadable Security Modules (LSMs) if required, delivering three levels of protection. This solution requires zero configuration before installation – at a time convenient to project execution, simple rules are set delivering an easy and flexible solution that provides the ultimate protection for your process systems. The software based modular design allows an additional layer of security to be added enforcing deep packet inspection on certain Industrial Control System (ICS) protocols. Intuitive configuration and management software allows users to assign global, talker and special rules for specific network segments.
9202-ETS MTL Tofino appliance
The MTL Tofino appliance is a layer 2 Ethernet bridge with no IP address, making it almost impossible to detect or attack. Its industrial form factor makes it suitable for installation into harsh and hazardous industrial environments with multiple front facing interfaces for ease of accessibility.
Both Copper and Fibre optic (Multi-mode and Single-mode) hardware versions for long distance applications
Robust metal housing designed for harsh industrial environments
Wide operating temperature -40°C to +70°C
Mount in Zone 2 and Class 1 Division 2 hazardous areas
DIN-rail mounting for quick and simple installation
Plug 'n' play for immediate protection and no pre-configuration upon installation
USB connectivity with secure USB port for configuration and diagnostics
Dual power supply inputs for added redundancy
Input/Output status
5 year warranty
MTL Tofino configurator (TC)
The MTL Tofino configurator is a free software with intuitive user-friendly interface for quick and simple configuration and management. Flexibility in configuration methods over the network or with a secure USB key, allows local or remote configuration options for engineers or field technicians with the required authorisation.
Unique 'test' mode allows engineers to validate the configuration rules before deployment
Built-in drag and drop templates provide ease of use for new users
Internal Syslog Viewer in TC 3.2
Asset Detection / Discovery
Assisted Firewall Rule Generation
Retrieve Diagnostic files via Network
MTL Loadable Security Modules (LSMs)
Various LSMs are available to create additional layers of protection to meet specific applications.
Basic functionality
MTL Firewall, Event Logger and NetConnect – supplied with the 9202-ETS appliance
Enhanced functionality: Content inspection LSMs
MTL Modbus TCP Enforcer
MTL OPC Classic Enforcer
MTL Ethernet/IP Enforcer
MTL DNP3 Enforcer LSM
MTL IEC104 Enforcer LSM
MTL GOOSE Enorcer LSM
Three simple steps to a complete security solution – First select the required 9202-ETS MTL Tofino security appliance hardware which is supplied with the 9522-FW LSM license including event logging and NetConnect. Then determine if additional Loadable Security Modules are required for the application. New users can then download the 9511-TC Tofino Configurator on receipt of the hardware.